Tate Modern (1/2 required Museum Visits and Writing Summary)
I have always had a craving for modern art. One of my favorite museums in San Francisco is the SFMOMA (SF Museum of Modern Art). So, I was very excited to visit the Tate Modern, located just at the end of the Millennium Bridge (famous for the scene in Harry Potter when the bridge is bombed and destroyed by Death Eaters) But the best part about the Tate Modern is that it is absolutely FREE, as are most of the museums in London, but you can chose to purchase tickets to some of the more famous temporary exhibits.
According to the Tate brochure, it claims to be the home of international art dating from 1900. It holds varying exhibits from Monet's
Water-Lilies
to Picasso's
Three Dancers
and of course a lot of innovative and quirky work from Jackson Pollock. The Tate pamphlet also details its founding by Henry Tate's charitable donations of 65 works in 1897. Tate Modern gathers 7 million visitors a year.
My favorite exhibit was a temporary one of American artist Taryn Simon. Her exhibit displays photographic portraits of distinctive worldly individuals and their direct bloodlines. The series of photographs tells a variety of stories such as poverty, hunger, disease, success or even the life of the admin of Hitler in the Nazi army during WWII. I wasn't allowed to take pictures of this specific exhibit, but essentially one piece would hold a series of images from each member of one individuals family. Then photographs adjacent to the portraits showed artifacts or supporting images that helped tell a story about the families' history or struggles. It was a very interesting take on understanding bloodlines across the world and international perspective on issues of war, hunger, poverty and other global troubles.
Here are some other pictures from the Tate Modern:
(above) Thousands of hand crafted ceramic sunflower seeds by artist Ai Weiwei form China.
(above) Poetry and Dream: Theme of permanent exhibit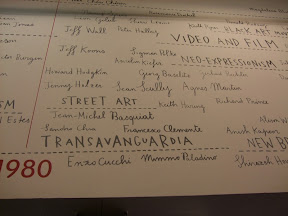 (above) Writings on the wall show a timeline of art movements and the artists that developed them
Written by: Anna White, BSP Journalism class 2011
Location:London, England