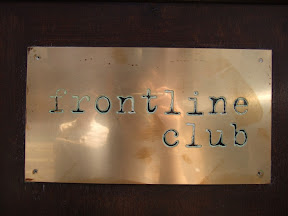 If a journalist ever needs a safe haven, a place to sit and drink endless cups of coffee while staring over interview notes, a place to chat with fellow colleagues, or even a place to honor legendary journalists and their career achievements, Frontline Club should be the first stop. A public restaurant sits just below the first floor (or second floor, in the US) members only club, exclusive to journalists and fellow enthusiasts. Upstairs from the club is a set of rooms where training workshops, documentary film screenings and intellectual forums are held.
It is here, that our class full of young aspiring students (whether journalists or not) spoke with journalism industry legend and professional John Owen. Mr. Owen has held various jobs in the media world starting in 1968 at WTMJ Radio Station in Milwaukee. To name a few things on Mr. Owen's agenda, he is an international news reporter and correspondent, executive producer of Al-Jazeera's The Cafe forum program and professor of post-graduate classes at City University in London.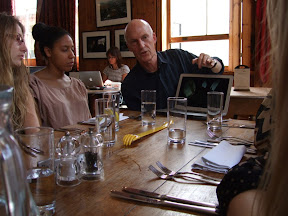 Mr. Owen told the class inspiring stories of taking risks in order to uncover injustices in this world of corruption, poverty, and other worldly issues reminding the students that we didn't become journalists to chase after the next Lady Gaga and follow celebrity gossip. Mr. Owen, and many of his journalist trainees and students, participate in "journalism that speaks to what a nation really is." In other words, journalists should be paying attention to the details that matter and really discover the truth in reality. Mr. Owen is a great example of a passionate journalist that has successfully adapted to this changing world and its need for information.
Following the Frontline Club, our class took an informative visit to the Advertising Standards Authority (ASA) where we listened to a presentation from Daniel Ware. We learned how the ASA's practice ensures that advertisements are "legal, decent, honest and truthful." They also have a specific code they follow in order to address complaints received from members of the public about specific advertisements.
The ASA was established in 1962 following the founding of the Committee of Advertising Practice (CAP) in 1961. Originally, the ASA covered mostly only advertisements in print, but in 2004, the Office of Communications (OfCom) delegated the task of reviewing television and radio advertisements in addition to all print media. However, the ASA does not cover things like packaging, window displays, business-to-business ads and etc.
Learning about the rules and standards of the ASA was a stark contrast to what we are used to seeing in the United States, where limitations and regulations are close to none. In the UK, alcohol, junk food, tobacco, gambling and children's ads have some of the highest restrictions. For example, an advert (as they call them here) from Burger King has to display a burger in the ad that matches the actual size of a burger purchased in store. Health and beauty adverts are also closely watched to make sure the images aren't photoshopped or enhanced unnaturally in any way that might mislead the consumer.
At the end of the day, the ASA will investigate any advert that has received even just one complaint, apply the advertising rules, make a decision and then adjudicate as necessary.
By: Anna White
Location:London, England